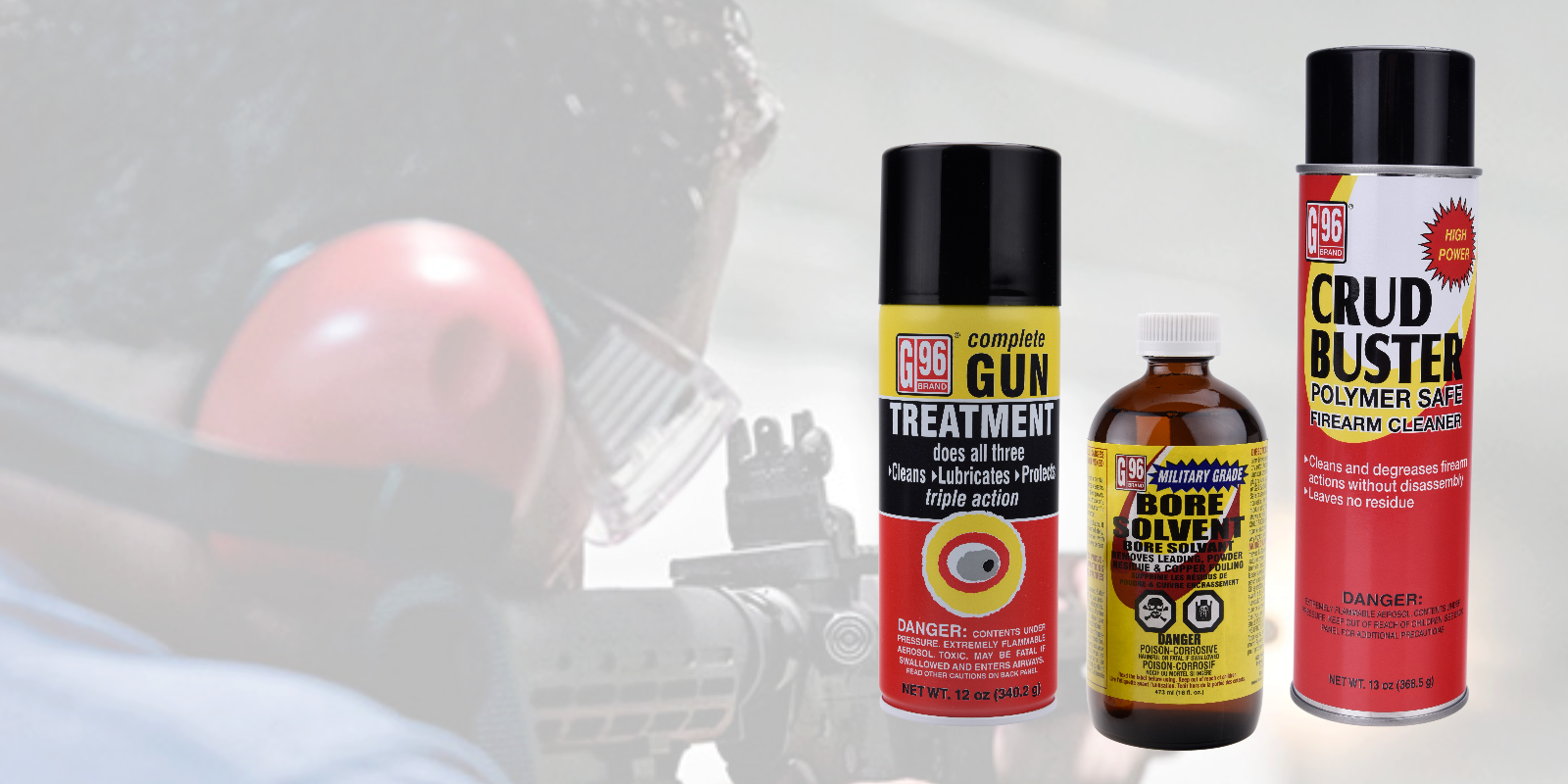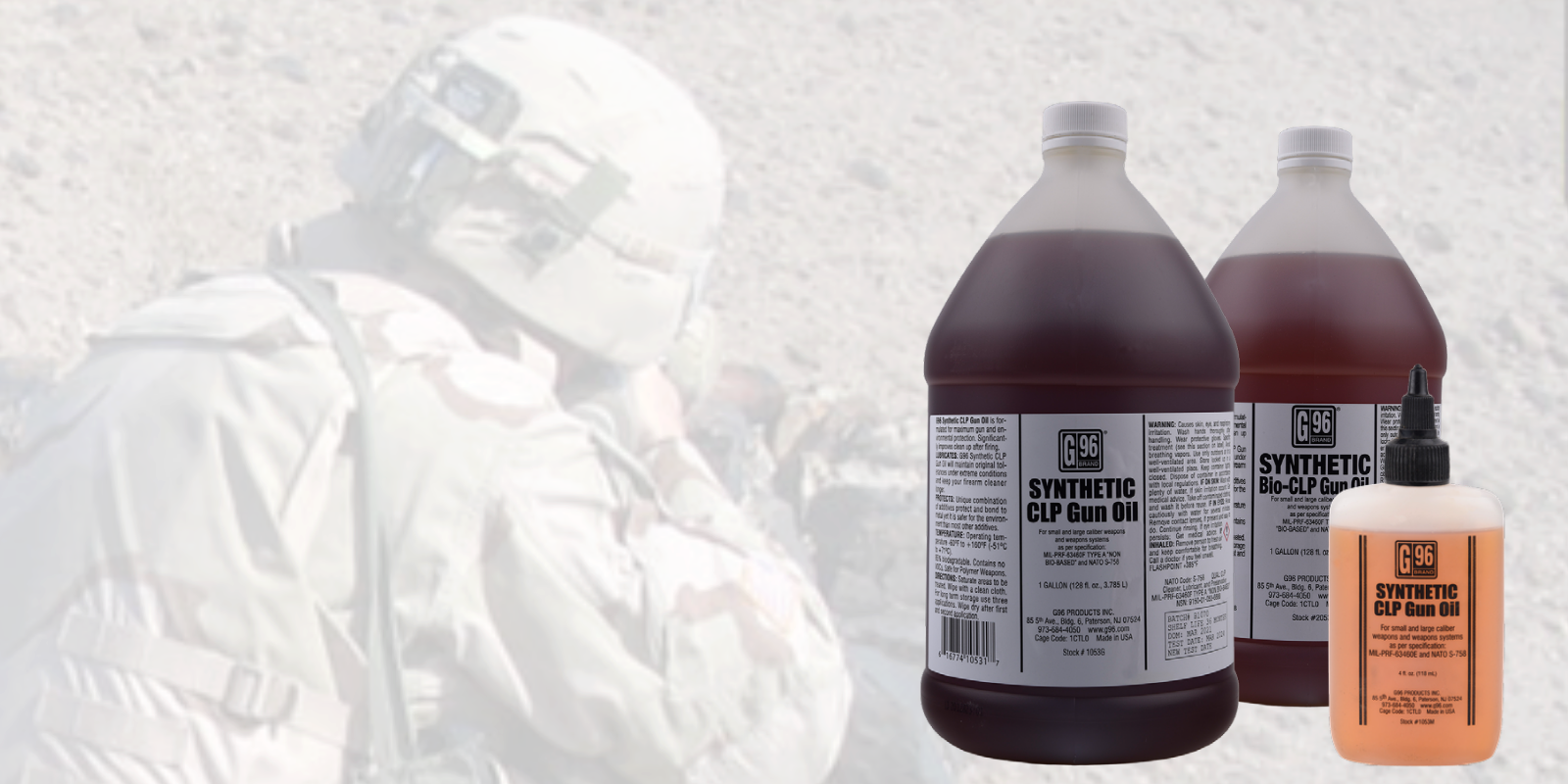 G96 Products Inc.
G96 is one of the most trusted names in gun lubricants and cleaning products. Our products are used worldwide by many Federal, State and Local Governments, Law Enforcement, Military and Security Personnel. G96 gained its reputation through it's trusted use by recreational hunters and shooters. G96 truly lives up to its reputation! Just ask any of our customers and they'll tell you why: It just works better!
Gun Treatment
G96 "Triple Action" Gun Treatment is the finest, most complete gun care product made. It cleans, lubricates, and protects in one operation. No solvents or preservatives are necessary. Safe for use on polymers. Learn about our gun treatment products!
Gun Oil
G96 Gun Oil is the same formula as G96 Gun Treatment, except it is a liquid and not an aerosol spray. Learn about our gun oil products!
---
Approved Military Gun Oil and Rifle Bore Cleaner
G96 Synthetic CLP Gun Oil, Synthetic Bio-CLP Gun Oil, and Rifle Bore Cleaner has been APPROVED for use by the U.S. Army for 21st Century CLEANING, LUBRICATING, and PRESERVATION of both Small and Large Caliber Weapons and Weapons Systems. Military Specification MIL-PRF-63460F (Type A traditional and Type B bio-based) and MIL-PRF-372F (Type A traditional – non-bio-based)
These specifications assure that our Synthetic CLP Gun Oil (traditional and Bio-based) and Rifle Bore Cleaner meets or exceeds the newest Military Standards. We welcome all Government Agencies, Law Enforcement Officials, Security Organizations, Hunters, and Sportsmen/Sportswomen to experience our products. Just take a look at the findings….
G96 Synthetic CLP Gun Oil and Rifle Bore Cleaner has met the following specifications as tested by the U.S. Military/Armament Research, Development and Engineering Center (ARDEC). Please read the MIL-PRF-63460F and MIL-PRF-372F specification for a complete listing of the approval criteria. You may click on FAQ's to view additional information on the testing process as well as additional information on all of our other products.
The U.S. Military/ARDEC findings included:
"Your candidate CLP, G96, not only recorded excellent performance in both the cold temperature test and the salt-spray test with no Class I stoppages in either, but your best two weapons averaged only 4 stoppages in the dust test against in the criteria of no more than 5, so we are pleased to qualify your current formulation."
A sample of the criteria used to evaluate our CLP:
Severe Cold Weather
Sandy and Dusty Environments
Salt Spray Corrosion Protection
High Humidity
Firing Residue Removal
Corrosion Protection from Propellant Reaction Products
and most importantly – LIVE FIRE tests conducted by ARDEC on M249's after cold temperature, exposure to blowing dust, and after salt-spray conditioning.
"Because of the severe nature of the test and corrosive damage to non-lubricated surfaces, only one weapon was dedicated to each lubricant. All weapons showed significant rust on the outside of the barrels, and some steel parts, but the weapon protected by your product had little or no evidence of corrosion in the receiver area, on the bolt or on the rails or spring assembly. Your product successfully passed this test with no stoppages in the 200 rounds fired."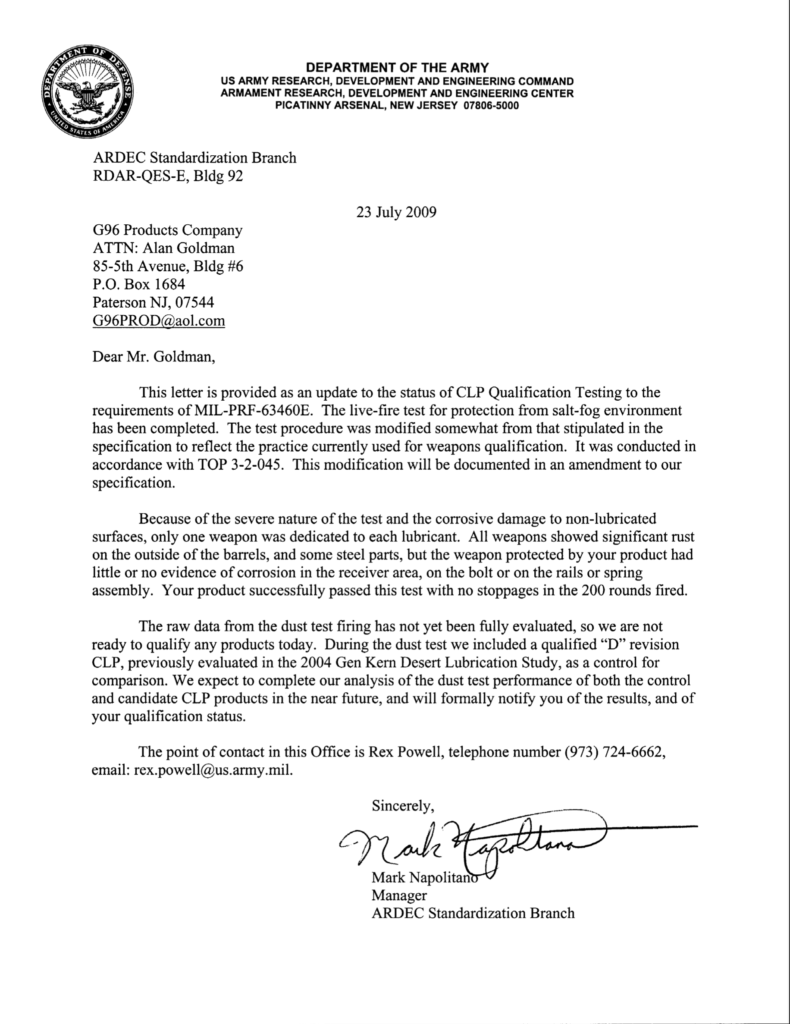 Press Releases
---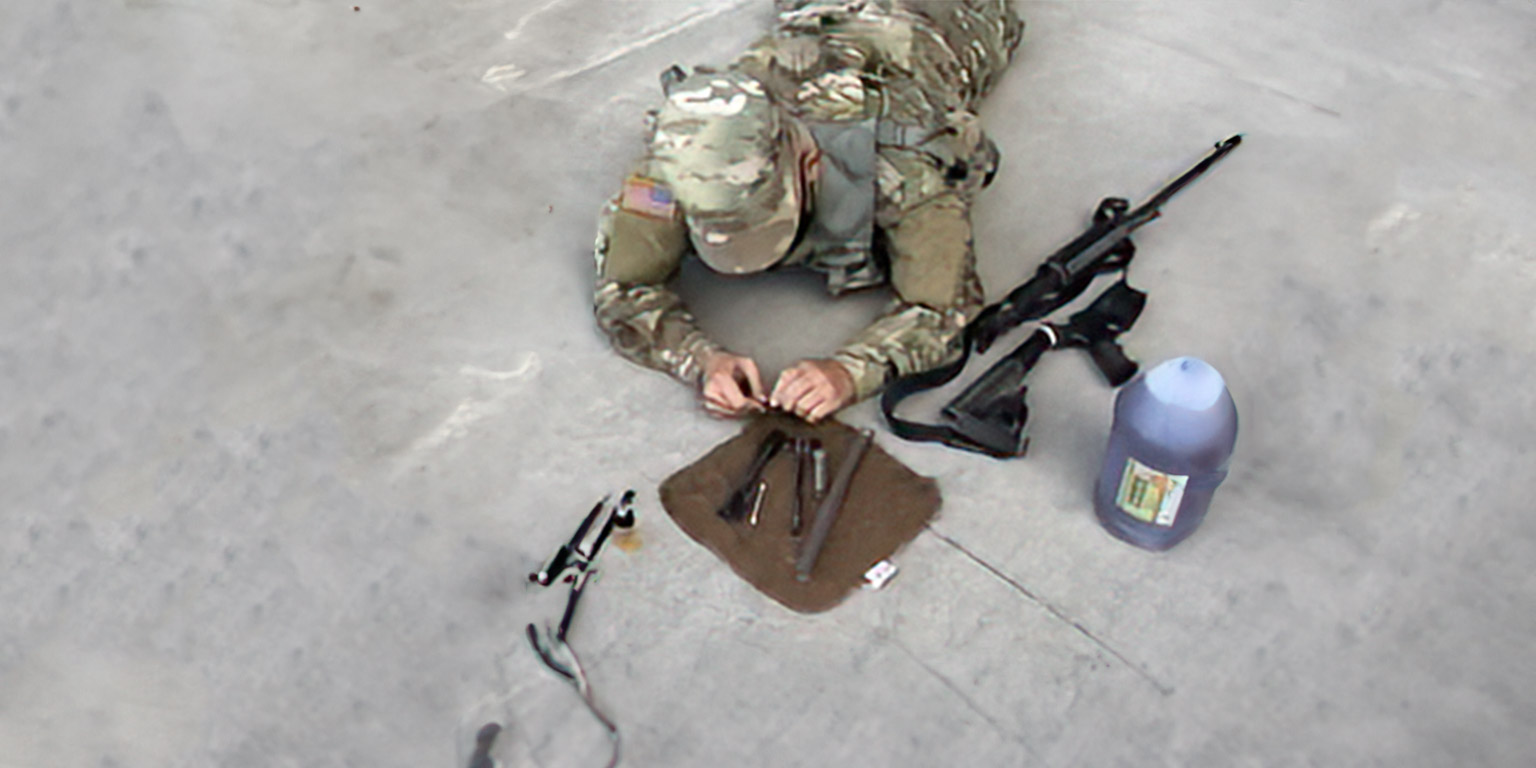 Biobased Cleaner, Lubricant, and Preservative (CLP) Demonstration Summary PATERSON, N.J., Aug. 12, 2023 The Department of Defense's (DoD) Sustainable Technology Evaluation and Demonstration (STED) Program is demonstrating the use of biobased Cleaner, Lubricant, and Preservative (CLP) for weapons and weapon systems at various DoD Installations…
---